Finger Pulse Oximetry is a very important non-invasive process used to measure blood oxygen saturation levels (SpO2) by monitoring the percentage of hemoglobin (Hb), which is saturated with oxygen as well as measuring heart rate. This procedure has been used regularly in hospitals during the past thirty years and is established as an essential measurement in medical practice, to ensure maintenance of adequate oxygen and prevention of respiratory difficulty. In many disease states, oxygen saturation is one of the most important vital signs to monitor.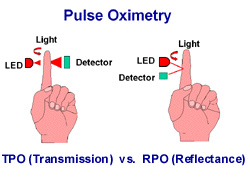 SPO Medical, represented by PMediCyp Ltd in Cyprus, has patented technology that uses the reflectance technique and incorporates it into portable devices that are as reliable as a thermometer or blood pressure cuff.

Moreover, these devices operate at a power requirement approximately 1/50th of that compared to commercially available systems. This puts pulse oximetry into the hands medical practitioners and emergency personnel on-site for the safety and benefit of all, and offers the opportunity to create new commercial and consumer applications.
SPO Medical's Reflectance Technique and Low-Power Advantage

Responding to the need for life-saving information in the field where people cannot be absolutely stationary, SPO Medical developed patented sensors that work accurately during physical activity. This technique uses a reflectance method whereby a very small sensor placed on the body at various locations has the ability to measure oxygen saturation and heart pulse rate. Typical motion artifacts have been compensated for within the system algorithms.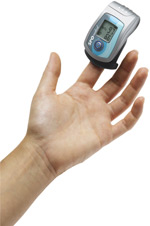 so, What are the Advantages of SPO6000 Finger Pulse Oximeter?

The PulseOx 6000™ is useful in any setting where a patient's oxygenation is unstable, including intensive care, operating, recovery, emergency and hospital ward settings, for assessment of any patient's oxygenation, and determining the effectiveness of or need for supplemental oxygen.
Because of its simplicity and speed, the PulseOx 6000™ is of critical importance in emergency medicine and is also very useful for patients with respiratory or cardiac problems, especially COPD, or for diagnosis of some sleep disorders such as apnea and hypopnea.

Main Features for SPO 6000 Finger Pulse Oximeter:
Attractive & Robust design pulse oximeter

Universal thimble size

AutoSpot™ technology for motion artifacts and low perfusion

Completely nail polish tolerant - no matter how dark the color

This outstanding Finger Pulse Oximeter is manufactured according to environmentally friendly standards (RoHS Directive)

Easy-to-read illuminated LCD with bi-directional readings

Long lasting battery: 500 hours

Belt pouch for storage supplied with each unit

Two year manufacturer's warranty
Order now the best Pulse Oximeter for the best value, with P-MediCyp Ltd