We at P-MediCyp Ltd are glad to present the best portable oxygen concentrator by far, in Cyprus and frankly- the world today.
The Invacare Platinum Mobile Oxygen Concentrator with Connectivity can help you with better asset utilization and control of costs. With a connected POC, app, and provider portal, you have a modern and durable POC solution to help you take control of your business. The dedicated provider portal provides near real-time data on how your Platinum Mobile Oxygen Concentrators are being used and gives you visibility to remote device diagnostics and live fault codes to help reduce service dispatches. Alongside connectivity, the easy-to-use Platinum Mobile Oxygen Concentrator features a rugged overall design, reinforced bag bumpers and a foam encapsulated compressor, and meets IP22 water resistance standard for exposure up to 10 minutes.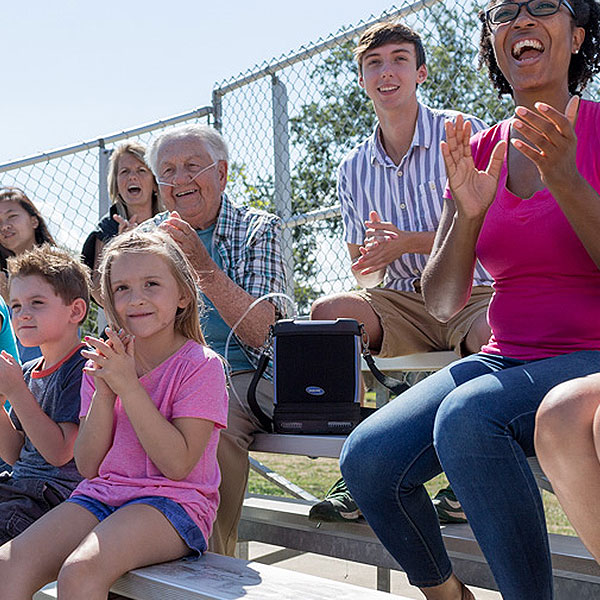 Includes: Platinum Mobile Oxygen Concentrator, carrying case, AC and DC adapters, two batteries, and USB Dongle.
Dedicated portal provides near real-time and historical use data and performance metrics by device.

Easy to use patient app provides pulse display, battery level, battery time remaining, guides and more.

Hot swap, top load batteries let you switch batteries without turning unit off or removing it from the bag.

Convertible carrying bag for messenger, handbag or backpack style carrying.

HEPA filter positioned on outside of unit for easy access


https://youtu.be/BfYns4eklDg


<iframe width="480" height="390" src="https://www.youtube.com/embed/BfYns4eklDg" frameborder="0" allow="autoplay; encrypted-media" allowfullscreen></iframe>
Dimensions:

9.45" H x 7.5" W x 3.88" D

Product Weight:

4.98 lb.

Oxygen:

Oxygen Flow: 1-4 Pulse settings
Oxygen Purity: 87% - 95.6%

Battery:

Recharge Time: 2 hr. 20 min. single battery - Recharge time increases if unit is running while charging
Runtime: Up to 5 hours - One battery; Up to 10 hours - Two batteries (Setting 1)

Code Approval:

FAA Compliant - Yes

Sound Level:

Sound: Less than or equal to 40 dB (A) (Setting 2)

Warranty:

Limited Warranty: 3 Year Concentrator, 2 Year Compressor, 1 Year Sieve
We will supply two rechargeable small batteries that will suffice for up to 10 hours of use without the need of electricity !!!!!!

We will also give a gift of an advanced Fingertip Pulse Oximeter with two years warranty !