Our Body Compostion Analyzer or body fat monitor is idael for private and personal use but also fantastic fro dieticians, gymnasia and sports centers.

Our body composition analyzer will help you manage your nutrition, fitness and weight control and can easily indicate if you are at the right weight and also whether or not you are nutritionally healthy.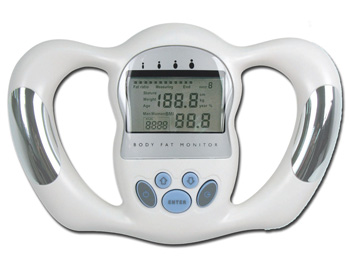 How does the body composition analyzer work?
Gima body composition analyzer measures the flow of electrical signals (total body electrical resistance or impedance) as they pass through fat, lean ( muscle, bones, vital organs) or water. When the amount of fat , lean or water changes, so does the body fat signal, giving you a highly reliable accurate measure of the amount of each of these components that make up your total weight.

With your homecare body composition analyzer you'll get a lot of meaningful data such as:

Calorie calculation function
BMI function
Body fat ratio function
Body fat analyzer function and more.

Your private body fat monitor has an auto power off (when no operation is detected for approxinate 2 minutes).
The memory function of the body composition analyzer stores up to 9 personals data and 1 personal data for guest.

Technical specifications for the body composition analyzer:

size: 24 x 16 x 43 cm
weight: 305 g
Power supply : 2 x AAA batteries- not included.
Buy now your personal body composition analyzer that is small in size and weight and that will help you to check the effectiveness of your weight loss program.