Looking for a complete seat solution that will provide comfort during prolonged sitting?

A quality seat cushion that will offer effective solution for folks that suffer from lower back pain?

A premium seat cushion , made in the U.S.A, that will bring comfort for those recovering from recent surgery or those who suffer from hemmorhoids?
The 3-in-1 Kabooti
®
donut seat cushion is a revolutionary donut pillow that provides comfort and support no matter where you sit. Whether you looking for a medical cushion for relief from issues such as hemorrhoids, tailbone injuries, post-surgery recovery or to alleviate the pressure or other seating discomforts from long hours in the office or car, the Kabooti
®
Seat Cushion provides relief all day long. The donut cushion design, generous coccyx cutout and seating wedge shape, the Kabooti
®
is an ergonomic solution with orthopedic relief!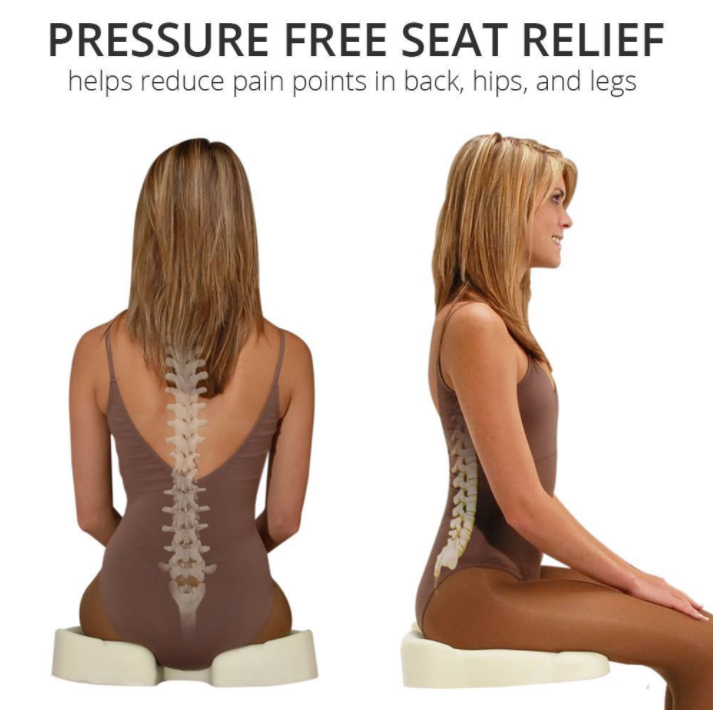 The Kabooti

®

3-in-1 Seat is perfect for those looking for relief from:
Hemorrhoids, Piles or Other Bottom Pressure Sensitivity

Lower Back Pain or Lumbar Discomfort

Pregnancy Relief or Post-Natal Recovery

Sore Tailbone or Coccyx Pain Due To Injury

Perineal Wounds

Post-Surgery Recovery

General Seating Discomfort

Plus Much More!
With its removable, washable 2 way stretch cover, the Kabooti
®
whether you are using it as a donut cushion, tailbone cushion or as a seating wedge, no one ever knows you are sitting on anything other than a standard seat cushion!
The Donut Seat That Makes Other Donut Pillows Obsolete!
It's a fact that 3 out of every 4 people will experience hemorrhoids or some other type of seating pain or discomfort in their life. Foam ring cushions have been the doctor recommended answer to seating relief. Unfortunately, with traditional foam ring cushions, sitting has continued to be a pain in the butt (literally)! The tradition hemorrhoid seat cushion continues to put pressure on the tailbone, instability, discomfort for males because of the design and even embarrassment from the donut pillow design.
The Kabooti Seat Cushion is an innovative 3 cushions in 1 solution to comfort your sore and sensitive areas no matter where you site. The Kabooti is an ergonomic seat cushion that combines the best features of a ring shaped donut pillow, a tailbone cushion and a traditional seating wedge and combines them into 1. Our Kabooti is has a completely reinvented ergonomic design to provide you comfort and support all day long, no matter where you are.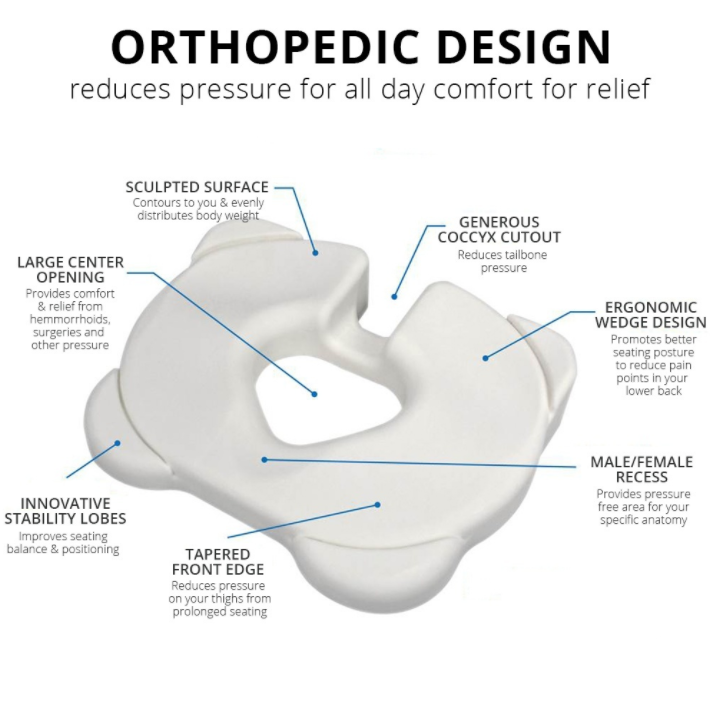 Why the Kabooti Is the Best Donut Seat in the House
With so many seating cushions available, and each focusing on one specific pain point, the Kabooti features the best of all worlds in providing a comfortable seating solution for those who sit long term in pain without comfort & relief. The Kabooti seat's 8 unique, orthopedic features provides all day relief no matter if you are sitting at your desk, in your car or truck, or even at the stadium for the big game!
Advantages of the Kabooti Seat Cushion
Sculpted Surface

– Contours to your unique body shape and even distributes your body weight to alleviate pressure points while sitting

Larger Center Opening

- Provides comfort and relief for those struggling with hemorrhoids, recent surgeries or other sore bottom pressures

Innovative Stability Lobes

– As humans we don't sit still when we are sitting (for the most part), these lobes improve our seating balance and ensures we stay in a proper seating position – improved balance over tradition ring shaped donuts.

Tapered Front Edge

– Reduces the pressure on your thighs from sitting

Male/Female Recess

– To provide a pressure free area for your specific anatomy providing added comfort for your seat

Ergonomic Wedge Shape Cushion

– Promotes better seating posture which helps reduce pain points in your lower back.

Generous Coccyx Cutout

– Reduces tailbone pressure for coccyx injuries and prolonged seating relief.

Machine Washable 2-Way Stretch Cover

– Easily removable, and washable. The cover features a handle sewn into it to make it easier to travel with. Also makes your cushion discreet, only you know you are sitting on a donut!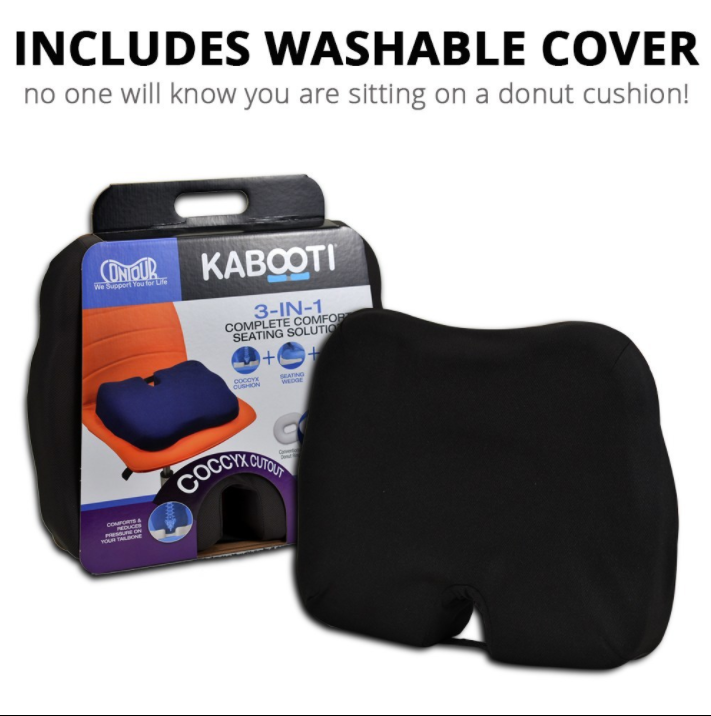 3-IN-1 DESIGN PROVIDES YOU WITH PRESSURE FREE SITTING TO HELP ALLEVIATE SEATING DISCOMFORTS
Kabooti Donut Seat – The donut feature of the Contour Products Kabooti seating cushion provides a large center cutout to help alleviate pressure for sore sensitive bottom areas. This provides a pressure free zone while you sit, giving you a comfortable seating solution for those suffering from:
Hemorrhoids or Piles

Post-Natal Recovery

Post-Surgery Recovery

Perineal Wounds

Testicular Pain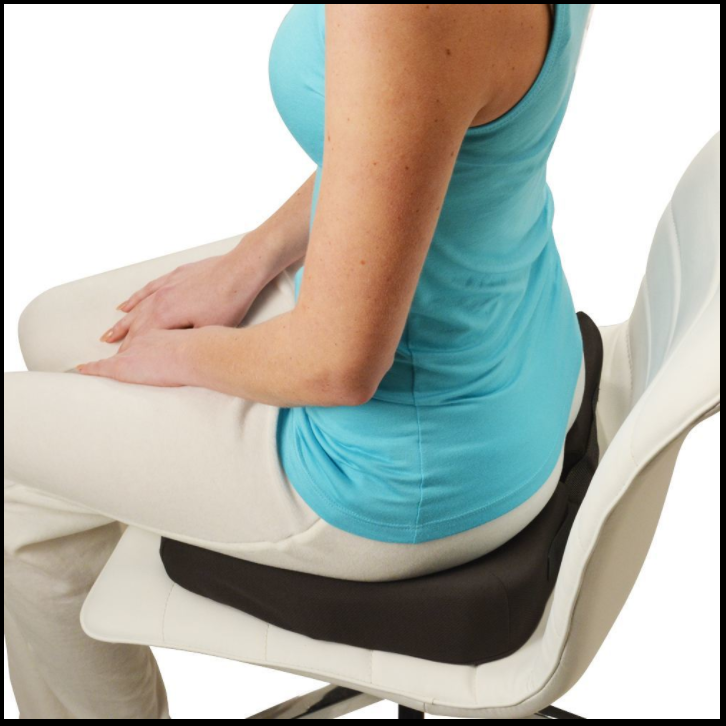 Kabooti Coccyx Cushion – The Kabooti features a large cutout for your tailbone area which prevents compression of your coccyx and lower back. By reducing pressure in that area with the support the Kabooti offers, you now have the ability to sit long hours in your car, desk or other seating surface without pain. Perfect for those suffering from:
Tailbone pain

Coccyx injuries
Kabooti Comfort Seat Wedge – The tapered design of the Kabooti makes it an effective seating wedge. The Kabooti slightly tilts your pelvic region forward, which promotes proper seating posture. With your thighs at a slight angle, it reduces pressure points in your lower back and helps prevent pressure in your lower back, making the Kabooti a perfect solution for those experiencing:
Lower back pain

Sciatica

Hip/Pelvis Discomfort

Thigh/Leg Pressure or Numbness Due to Sitting for Long Periods of Time
Buy now and feel the difference
Availability:

8

Model:

Kabooti Seat Cushion