We at P-MediCyp Ltd are proud to present the leading basic sequential compression device, Phelbo Press, that will allow you a long years of reliable home care lymphedema therapy.

The Phlebo Press is a sequential pneumatic compression system specially desigend for efficient reduction and management of peripheral edema, such as lymphedema and ulceration associated with venous insufficiency.
Phlebo Press is desigend to give quality treatment at home. It is easy to use and encourages patient compliance.
Phelbo Press garments feature unique overlapping 4 cell design to provide smooth and effective treatment.
Phlebo Press belongs to the world famous Lympha Press family of devices, distributed and serviced by the Israeli manufacturer distributors worldwide.

The Phlebo Press device is designed to treat venous disorders and lymphedema in the limbs.
Operating the Phlebo Press is simple, On/Off botton and two adjustments knobs only.

You can use 1 air outlet for a treatment with one sleeve or use both air outlets.
You can use the hooks under the device to hang the device on the bed side.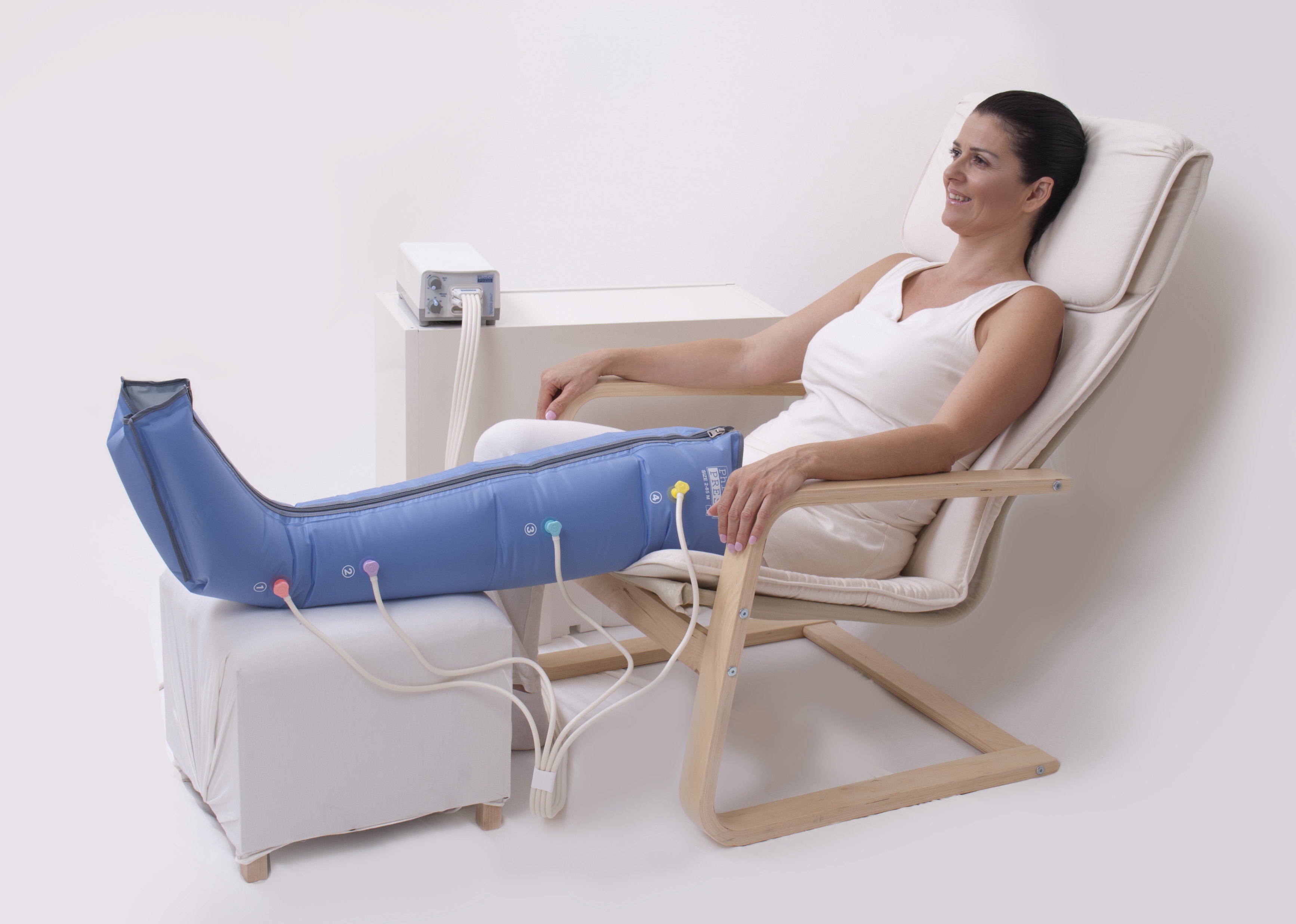 We at P-MediCyp Ltd specializes in this Medical Equipment technology and also enjoy a comphrehensive understanding of the indications and contraindications for use , so will gladly help you choose the best lymphedema home therapy.
We are the sole distributors of the the famous Lympha Press family of devices in Cyprus.
What are the indications for use for the home lymphedema therapy, Phlebo Press?
♦
Insufficiency of venous blood return
♦ Relief for varicose veins condition.
♦ Healing of venous stasis ulcers.
♦ Lymphedema of legs and arms.
♦ Post -mastectomy arm edema.
♦ Promotion of wound recovery.
♦ Relief from muscular and nervous pain.
♦ Relief of discomfort from leg fatigue.
what are the features of the sequential compression device, Phelbo Press?



♦ Fully variable pressure range 20 to 80 mmHg.

♦ Treats up to two limbs simultaneously.

♦ Easy reading controls ( Pressure, Pause Time).

♦ Can be used on legs or arms.

♦ Compression garments consist of four fully overlapping compression cells to provide fully sequential lymph drainage.

♦ The Phlebo Press lymphedema therapy device is user friendly and can easily operated by the user or caregiver.

♦ The Phlebo Press brand from the famous Lympha Press family of products is lightweight and portable , weigh only 2.3 kg !

If you feel pain or numbness during treatment , stop the pump and open the zipper slightly.
If you still experience significant pain or numbness, stop treatment and contact your physician or therapist.
Contraindications:
Use of Lympha Press® compression therapy systems is not

recommended in the presence of any of the following conditions, if you

suffer from one of the following conditions, the use of Lympha Press

products from P-MediCyp Ltd MUST be approved and monitored by your

physician:
Known or suspected deep vein thrombosis or pulmonary embolism

During the inflammatory phlebitis process

Acute infection of the affected limb

Decompensated cardiac failure / congestive heart failure

Severe arteriosclerosis or other ischemic vascular disease

Any circumstance where increased venous and lymphatic return is undesirable

Precautions:

Due to movement of fluids in the body when using this system, be

careful if having heart disease. Using high pressure is not

recommended for patients with peripheral occlusion disease.

See the User Manual for additional notes and precautions.

CAUTION: THIS IS A PRESCRIPTION-ONLY DEVICE.
For a professional video guide about operating the Phlebo Press simply and safely and how to use the sleeve easily, click here.
Customers who bought the Phlebo Press pneumatic compression device for self management of their lymphedema at home, also read about home lymphedema treatment and home lymphedema therapy device, the Lypmpha Press Mini
Availability:

10

Model:

Phlebo Press 701